Winton Transfer Station (Dump)
Winton Transfer Station
193 Florence Road, Winton. Transfer Station is open 5 days a week.
Directions
From Winton Township, head north along Great North Road towards George Street. Take the 2nd right onto Winton Hedgehope Highway. Take the 2nd right onto Florence Road for 300 metres. The Winton Transfer Station is on the left.
Transfer Station (charges apply)
Hours
The Winton Transfer Stations opening hours are:
Monday, 2.30pm to 5.30pm
Wednesday, 2.30pm to 5.30pm
Friday, 12.30pm to 5.30pm
Saturday, Daylight savings hours - 11am to 5pm, Winter hours - 1pm to 5pm
Sunday, Daylight savings hours - 1pm to 5pm, Winter hours - 2pm to 5pm
The Station is closed on the following public holidays - Good Friday, Easter Sunday, New Year's Day and ANZAC morning.
Using the Facility
Customers will be met by the Attendant, who will accept payment (where applicable) and direct customers where to dispose of their materials. Payment is by eftpos or 'token'. Credit cards are not accepted. Please note this site does not have cash-handling facilities.
Materials Accepted
Household rubbish
Reusable Items - there is a "second-chance" shed on site where second hand goods can be left for others to use
Garden waste
Scrap metal
Hazardous waste (limited storage capacity)
Recyclables
Materials Not Accepted
Loads over 3 tonnes gross weight will not be accepted without prior written approval from Southland District Council.
Liquid waste
Where do I purchase Tokens?
Tokens can be purchased from the following businesses:
Southland District Council Winton Office, 1 Wymess Street, Winton
Irwin Motors, 195 Great North Road, Winton
Caltex Motors, 290 Great North Road, Winton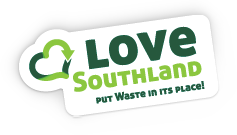 Address:

193 Florence Road, Winton