INTERNATIONAL FLORIST TO SHOWCASE ARTFORM IN WINTON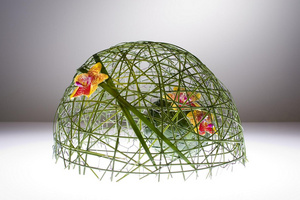 Exciting times are just around the corner for flower lovers and designers in Winton.Central Southland Floral Art Club is delighted to have top International designer MARK PAMPLING scheduled to visit in early August to share his knowledge with them and present a public demonstration.
Mark is one of Australia's foremost contemporary floral designers. In addition to being the co-owner of Astonville Florist in northern New South Wales, he's a busy TAFE teacher, floral demonstrator, accredited floristry judge and current president of Interflora Australia – roles which take him all around Australia as well as to Asia, Europe and USA. He has been awarded the Interflora Australia Cup on many occasions and has competed in prestigious international competitions and exhibitions with numerous Gold Awards, Best in Show, Design Innovation Awards and Creativity Awards being gained. He's a regular contributor to floral design publications including the acclaimed International Floral Art, UK-based Fusion Flower magazine and more recently became a member of the elite FLOOS team, an on-line educational website for florists and floral designers.
Mark has become known for his "structural" approach to designing with technique and "craftsmanship" being important elements in his bid to showcase plant material and make it the "star" of each artwork. He will be demonstrating some very different ways of using our local botanical materials in his presentations. "We anticipate seeing him work with crisp lines and exacting techniques," says Convenor Rhonda Hall. "Expect an evening of dynamic designing. This will appeal to all who appreciate art and natural materials, not just floral designers," she said.
The Mark Pampling demonstration is entitled "Irregular Moments" and is at the Central Southland Presbyterian Church Complex in Winton on Thursday, 1 August 2019 starting 5.30pm. Tickets are $45 (includes light refreshments) and available from Rhonda Hall on (03) 2367157.
The day following the Demonstration, Club members and floral designers from around the South Island will explore new possibilities and learn new techniques during two Workshops tutored by Mark.
Any further queries please contact Anna King – annacraigking@gmail.com or 0274915547.