Thank you from the Winton Volunteer Fire Brigade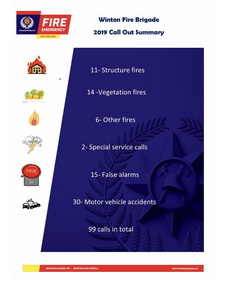 The Winton Volunteer Fire Brigade would like to take this opportunity to thank the locals of Winton & the surrounding Districts for their ongoing support & generosity during a busier than normal 2019 year.

If you live & work in Winton and you think you have what it takes to become a volunteer firefighter then we want to hear from you.
Contact Chief Fire Officer
Stephen Milne - 0272287112
Or go to the Fire and Emergency NZ (FENZ) web site, under Volunteers & follow the links!

The image is an over view of the year.