Winton Business Association Bowls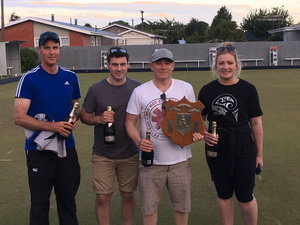 A great turnout on Wednesday 29th November with 14 teams taking part in our first business challenge to win the Winton A.A.C. House Relay Trophy. This trophy was first won in 1939 by Grimwoods Grocery Shop! Then again in1990 by Winton New World and 1998 by Winton Mitre 10. The trophy had been hidden away for many years and was found by the Molloys when they left Winton New World last year.

Thanks to Lisa Hay for picking up the challenge of organising this event for the Business Association to come together on a social occasion. After all the games, the final was played between Malloch McClean and PR Law, with PR Law overall winners and receiving the trophy. Many thanks to Bill Ward and the Winton RSA Bowling Club for the wonderful guidance and advice.